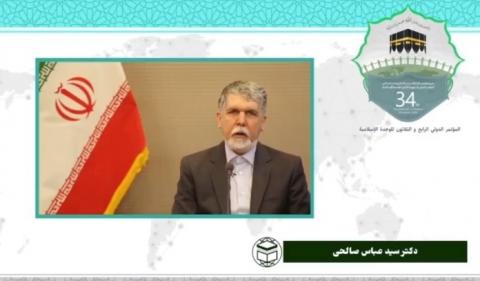 Seyyed Abbas Salehi, Iran's Minister of Culture and Islamic Guidance attended the webinar on "Post-COVID world and political, social and cultural scenarios in Muslim world" as part of the online meetings on the fourth day of the 34th Islamic Unity Conference stressing economic issues of the people as the key concern following the outbreak of the new coronavirus.
Top official referred to the changes brought to different aspects of life for world people following the coronavirus outbreak and noted the number of half a billion people sinking below the poverty line due to the pandemic and highlighted economic issues to be held as number one concern for the world people amid the contagious disease, reported Taqrib News Agency (TNA).
Ayatollah Gholamali Safaee Bushehri, representative of the Supreme Leader in Bushehr, warned of enemies targeting all religions, for pursuit of division and clashes among people in order to dominate nations.
"Islamic unity is a strategic, spiritual and logical strategy" said the scholar and called on all denominations to stress solidarity among their followers.
Fatemeh Aliaa, member of the union of political activists supportive of Islamic proximity, Ayatollah Mohammad Andalib Hamedani, Hujjat-ul-Islam Seyyed Abdul Hossein Navvab, director of the University of Religions and Denominations, Hujjat-ul-Islam Mostafa Rostami, representative of the Supreme Leader in universities were among other lecturers in this webinar.
34th Islamic Unity Conference is held on October 29th- November 3rd as over 350 speeches will be delivered by Muslim scholars and thinkers from across the globe.
World Forum for Proximity of Islamic Schools of Thought has scheduled the 34th meeting of the Muslim world luminaries in online meetings due to the novel coronavirus pandemic.