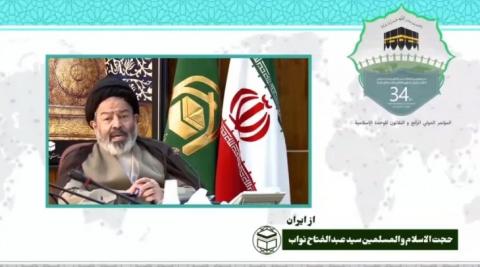 A number of Iranian religious and cultural figures discussed the role of Muslim scientists in face of calamities in part of the online meetings held by World Forum for Proximity of Islamic Schools of Thought for 34th Islamic Unity Conference held virtually due to the new coronavirus outbreak.
Hujjat-ul-Islam Seyyed Abdul Fattah Navvab, representative of the Supreme Leader in Organization of Hajj in this webinar related on the role of scholars in regards to the people in face of a disaster and quoted Prophet Mohammad (PBUH) introducing scholars as religious leaders who should constantly learn and guide the people, reported Taqrib News Agency (TNA).
He counted cooperation and compassion with people as two responsibilities of the religious leaders and hailed Muslim nations for supporting the underprivileged or distressed peers in early days of the pandemic infection.
Mamusta Abdul Rahman Moradi, Friday prayer leader of Kermanshah province called the outbreak of COVID-19 as a test of patience by Almighty God and stressed necessity of boosting religious beliefs.
Ayatollah Seyyed Alireza Ebadi, representative of the Supreme Leader in Southern Khorassan province noted that Islamic unity should be a pursuit of the whole year and referred to the history of colonial powers penetrating into Islamic states up until today that solidarity among Muslims has not materialized.
He condemned the European countries and enemies within the Muslim world for committing crimes and accusing Muslims as perpetrators.
Hujjat-ul-Islam Lotfollah Dejakam, representative of Supreme Leader in Fars Province, Ayatollah Mohammad Abolghassem Doulabi, member of the Assembly of Experts and Sheikh Yaghoub Shams, Friday prayer leader of Sunni community in Kish were among other participants in this webinar.
34th Islamic Unity Conference is virtually held as Muslim clerics, religious and cultural figures from across the globe exchange views on the theme of the online meeting in accordance with the pandemic infection, "Islamic Cooperation in Face of Calamities and Disasters."